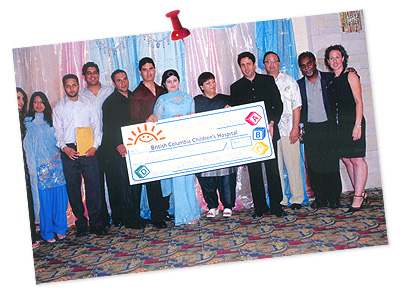 Known Punjabi Singer Gurdas Maan lit the evening at the PNE Coliseum with his famous Punjabi songs, entertaining the audience while in town he help to raise funds for the BC Children's Hospital. An amount of $88,000 was raised by the sale of tickets which was sold at $100 each.

Nirmal Dhaliwal, who is a promoter for Gurdas Maan and who, along with Dave Sandhu and Gary Purewal, had organized the event, says it was a huge success with the audience dancing to the tunes of "Badshah of Punjabi folk music. "The best part is that none of the artists or the crew charged anything from us since they were in town to perform in a concert at the PNE and agreed to do a fundraiser for the BC Children's Hospital."

Nirmal states that an amount of $ 10,000 was donated by the Kool Boys while an amount of $ 10,000 was donated by Dr. Atish Singh who was the first doctor to use the chemo machine in BC. Earlier, the children had to go to Edmonton. The amount spent on organizing the event was spent by Nirmal from his own pocket who also donated $ 10,000 towards the fund raising.

It was when his 13-year old daughter had to be rushed to the BC children's hospital and was put on the chemo machine that Nirmal realized the importance of the machine. The hospital helped save his daughter's life and it was at that time that he vowed to help out the hospital in any way he could. Well, that certainly is quite a help!